Admissions/Lottery Information
The C. H. Barrows STEM Academy lottery for the 2023-24 school year closed on Friday, February 24, 2023.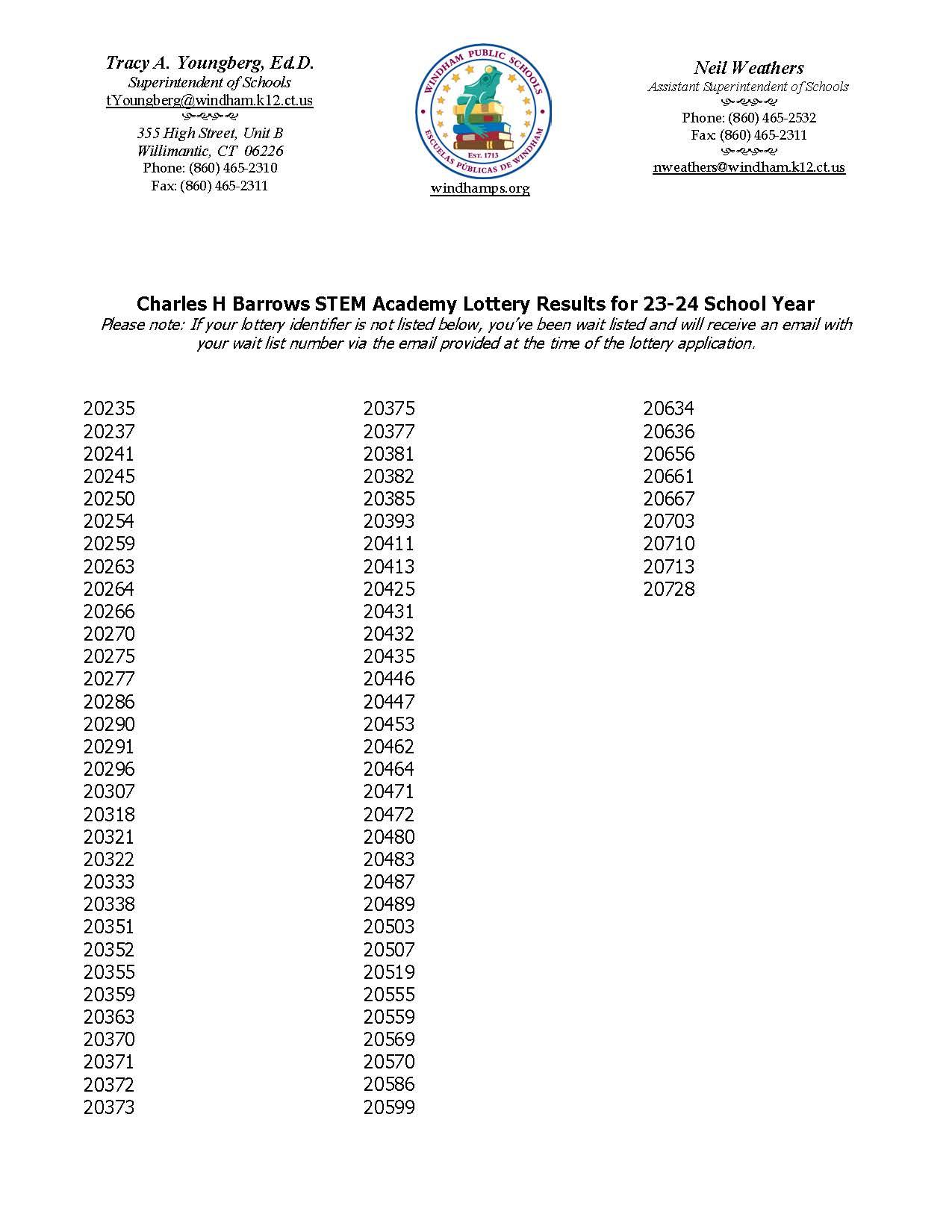 Q: When does the lottery open?
A: The lottery is open from Monday, January 9th through Friday, February 24th until 3 p.m..
Q: When does the drawing for the lottery take place?
A: The drawing for the lottery takes place on Friday, March 24th for both the Compañeros and CH Barrows choice programs.
Q: When is the deadline for acceptance of a seat in the Barrows or Compañeros lottery?
A: You must accept your seat for the Barrows or Compañeros lottery by Thursday, April 10th .
Q: I want to visit CH Barrows STEM Magnet School. How do I set up a tour?
A: You can set up a safe in-person walking tour by calling CH Barrows directly at 860-465-2610 or via email at BarrowsSTEM@windham.k12.ct.us
Q: Can I apply to both Compañeros and the CH Barrows STEM Magnet school lottery?
A: Yes, you can apply for both programs through the lottery process.
Windham's regional STEM (Science, Technology, Engineering, and Mathematics) Academy is a Kindergarten to Grade 8 magnet school in northeastern Connecticut, enrolling 570 students from the Town of Windham and surrounding communities.
Our teaching methods, technology offerings, laboratories, classrooms, and modern equipment provide students with the tools they need to apply effective, critical thinking skills to any challenge. Hands-on inquiry learning helps to motivate students as they gain confidence across academic disciplines and develop a broader intellectual and personal understanding of the world around them. Learning becomes more meaningful as personal inquiry stimulates higher-level thinking, and students investigate real-world problems in a stimulating and supportive learning environment.
Video About Charles H. Barrows STEM Academy in English
Video sobre la Academia STEM Charles H. Barrows en español